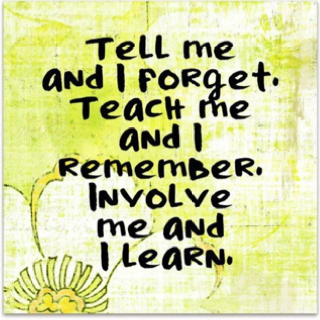 In my first career I was a teacher.  A high school french teacher…but really just a lover of learning.  I am still a teacher at heart and I naturally bring that into my work on a daily basis.  I aim to TEACH my clients as we work together.  This is why I work together with my clients…they must be involved in what we are doing.  I want to leave them prepared to tackle things on their own.  I want them to be able to teach their children.  I want them to start thinking in different ways and try to come up with solutions all on their own.  This is what a teacher does…equips you for when you face new problems.
So this week the teacher in me was very proud of my students.  I had the opportunity to work with several repeat clients this week.  The first client I worked with immediately showed me the "homework" she had finished since our last visit.  Her space looked great and she said things were working so well.  She even showed me a couple more areas she had organized on her own after being inspired by our session.  I was beaming inside…so proud to see her implementing things in a second space.
Another client was moving studios last week.  When I came to work with her on her new studio I was so proud to see that she had moved almost half of it on her own and it was already so organized.  The systems we had set up in the previous studio moved over to the new space pretty seamlessly.  I was so proud to see how she was keeping up with her systems.  We moved everything over and before I left she had her workspace set up and ready to go again.
And today, my client showed me a new desk area he had implemented and said it was working so well for his son.  His kitchen looked great when I arrived and I could tell he had really been using the systems we had set in place.  We finished our work and I gave him a couple of homework assignments and I know that the next time we work together he will have them done and be ready to go.
They are all growing because they are great students.  I am so proud of them and the hard work they are all doing.  Always show me what you're working on.  Show me the spaces you are proud of  and you're changing.  It makes this teacher very proud!