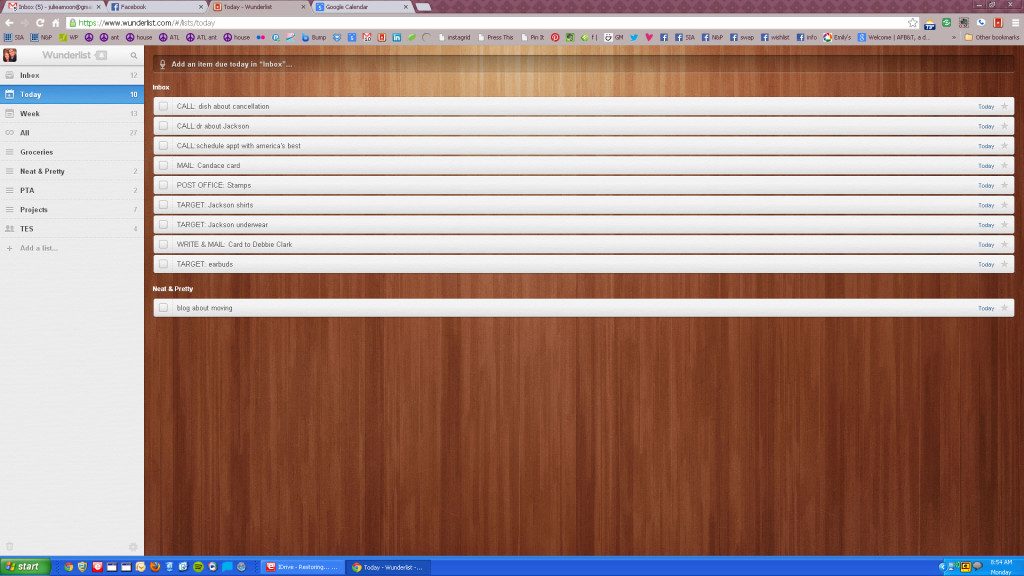 It's back to school week here at Moon Headquarters.  The kids are headed off on Wednesday which means that in theory I should be able to accomplish more than one or two things in a day.   This means my list making skills are about to be put to good use.  This year I am going to be working, serving as PTA secretary, serving the campus students at church, helping my husband with one of his ventures and mommying full time.  There is something so incredibly frustrating about forgetting to stop by a store while I'm out when I could have easily stopped in…or forgetting to make an important phone call.  And heaven forbid I forget an event at school.  My kids will never let me forget about it if that should happen.
I choose to use a web based app to keep up with my lists instead of paper.  In this day there are so many options for keeping track of your "to do list".  There are apps that you can access on your phone that also sync up with the web.   Often these apps let you share a list with someone else so that you can collaborate on making the list and/or completing the list.  IE, get the Mr. to pick up some groceries on his way home from work.  You can go old fashioned with pen and paper but that requires keeping up with one more thing besides your computer and phone.  I never forget my phone…so my lists are always with me, easily updated as well.  Some of my lists include groceries, work lists, projects around my home and during the holidays…christmas wish lists.  Are you building a home?  Keep a list for each of your contractors.   Are you collaborating on a party?  Keep a list of what needs to be purchased or done.  Give each of your older children a list so that you're not nagging them to do the things you want them to do.
I also spent some time this morning labeling email so that I can easily organize my inbox.  PTA gets a purple label and Neat & Pretty gets a blue label.   These things help me make sure that I stay as organized and efficient as possible.  I have my gmail set to have all the unread email at the top of my inbox.  I filter out advertisements so they don't distract me when trying to read through my mail.
Take a few moments today to think about how you're keeping up with things.  Are you running yourself a bit ragged trying to store all that info in your brain?  Are you shoving 20 "to do" lists into your purse so you don't forget what's going on?  The app I have chosen to use is called Wunderlist.  I have written about it before but they have upgraded several things since that time.  I love that I can set reminders on my tasks and sort things by date or alphabetically.
If you're stumped or overwhelmed by the technology available or want a little help cleaning up your email, give me a call.  We could spend one hour together and save you hours and hours of time this school year by starting things off on the right foot.