I decided today deserved a five on friday post.  Today's post is going to be five short five minute projects you can do this weekend to organize your home!  Sometimes it's those 5 minute projects that really motivate you to get started on something bigger!  Set your timer…see if you can get it done in just five minutes.  The key is to not get distracted by something else and to not linger over the project at hand.  None of these are meant to be super emotionally challenging organizing projects so I'm sure you can motor through them with no trouble at all.  So here goes…
#1 Sock Drawer Dump
This one does require that the laundry be done…so you can adequately match up socks.  Pick the sock drawer with the most singles loose and dump it out on the bed.  Check all the socks for holes…ditch those.  Match up socks with their partners.  Whatever doesn't match…it's time to go…turn them into rags or trash them.   Why does that happen?  Socks losing their partners?  I like to buy all the same style socks (for white athletic or black dress socks) and then when one sock goes missing I know I'll have another to match it up with soon when another gets a hole in the heel.   If you get confused between your children's socks…can't distinguish whose are whose here is a little tip.  Use a fabric marker and put one dot on the toe of the oldest child's sock, two dots on the second child, three dots on the third child….when you pass socks down all you do is add another dot.
#2 Sheet Wrap Up
This is how I store all my sheet sets.  I have two sheet sets for each bed in our house.  I keep the extra set (not currently on the bed) in the closet of the room where the bed is located.  It makes it super easy to find the right sheets for the right bed.  I put the fitted, flat and extra pillowcase (if it's not a single) inside a pillowcase and then tuck the extra fabric to make a little envelope.  My sheets always look tidy on a shelf and they are never tumbling out on top of me in a closet.  It also means that I don't have to dedicate an entire hall closet to linens.  So…the five minute project for you is to find an extra set of sheets for each bed…or however many you might have and put the set together.  I predict this might turn into a good project where you evaluate all the sheets you have.  Do you really need 7 flat sheets just in case you need to make a fort in the living room?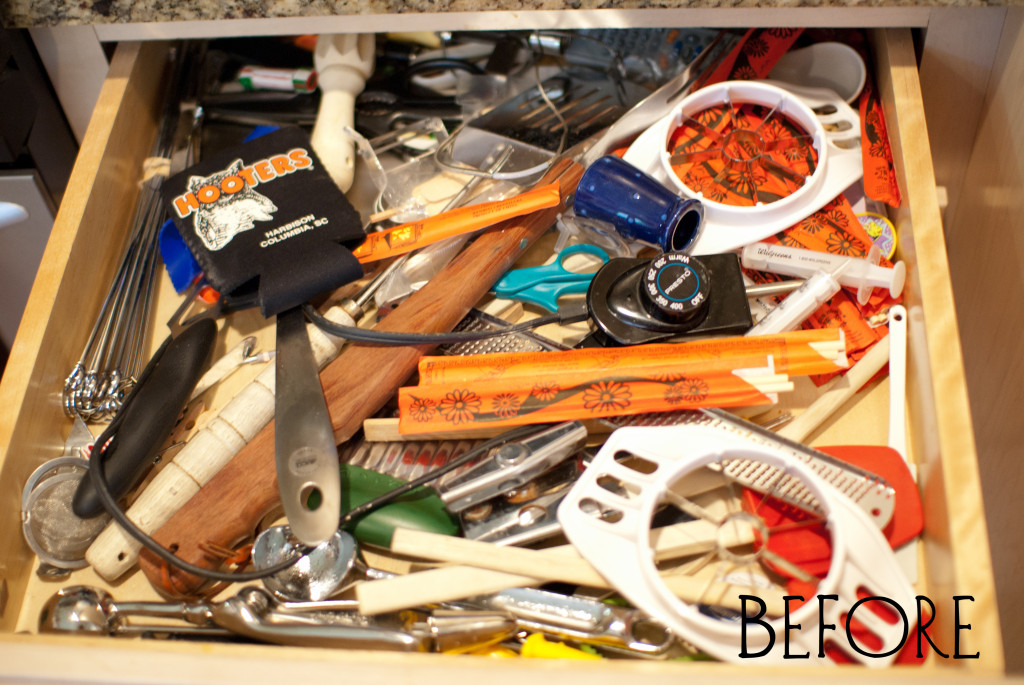 #3 Kitchen Drawer Declutter
We all have at least one drawer in our kitchens that collects hoards of random junk.  It isn't necessarily our "junk drawer".  It could be your utensil drawer or your hand towels.  Just pick one…whichever one you know will make the most impact.  Lay a towel out on the counter and pull everything out of the drawer.  Clean out the drawer…all the crumbs and dirt.  Now thoughtfully put things back that actually belong in the drawer.  Do you really need 6 spatulas?  Don't you always use the same two? Do you have three sets of measuring spoons?  Have you replaced your hand towels but didn't get rid of the old ones?  Do you have twelve extra sets of chop sticks that you never use? Things you've gotten for free but didn't really want but threw them in a drawer anyway.  Make a bag and take it to goodwill or if it's trash…put it in the TRASH! I predict that this will inspire you to do a few more drawers in your kitchen.  Oh how I love organizing a kitchen!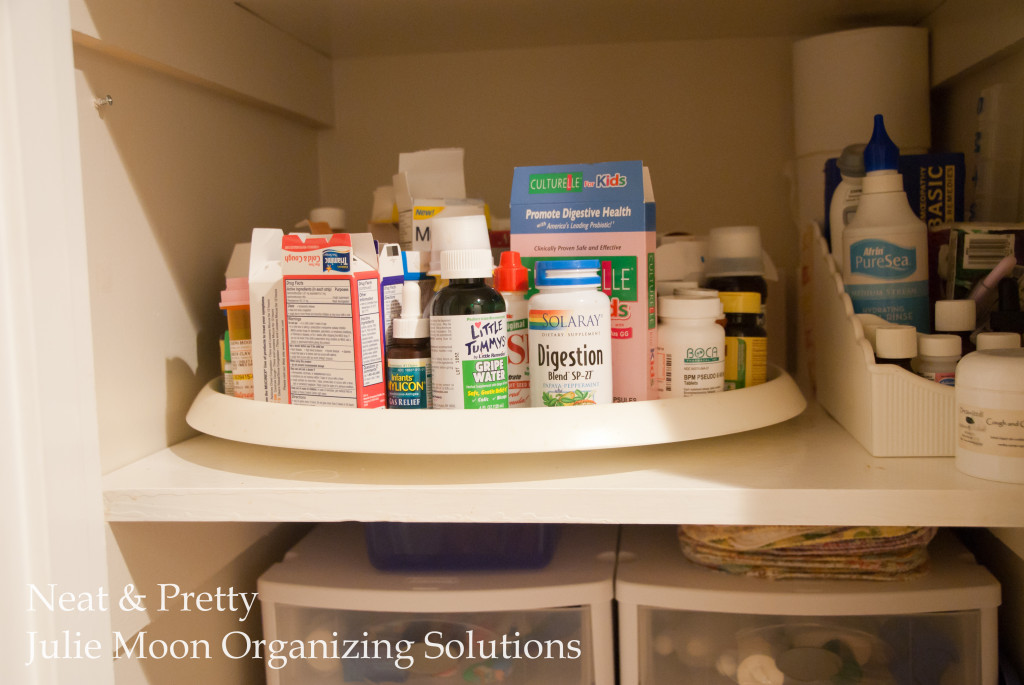 #4 Old Medicine Toss
This should be a pretty easy task…five minutes to clean up  your medicine stash.  It is time to clean out the old medicine…check the dates.  Do you have some medicine that your children refused to take?  Something in there that just didn't work for you…time to get rid of it! This project might easily lead to another where you toss old lotions and ointments.   Make sure you dispose of the medicine properly.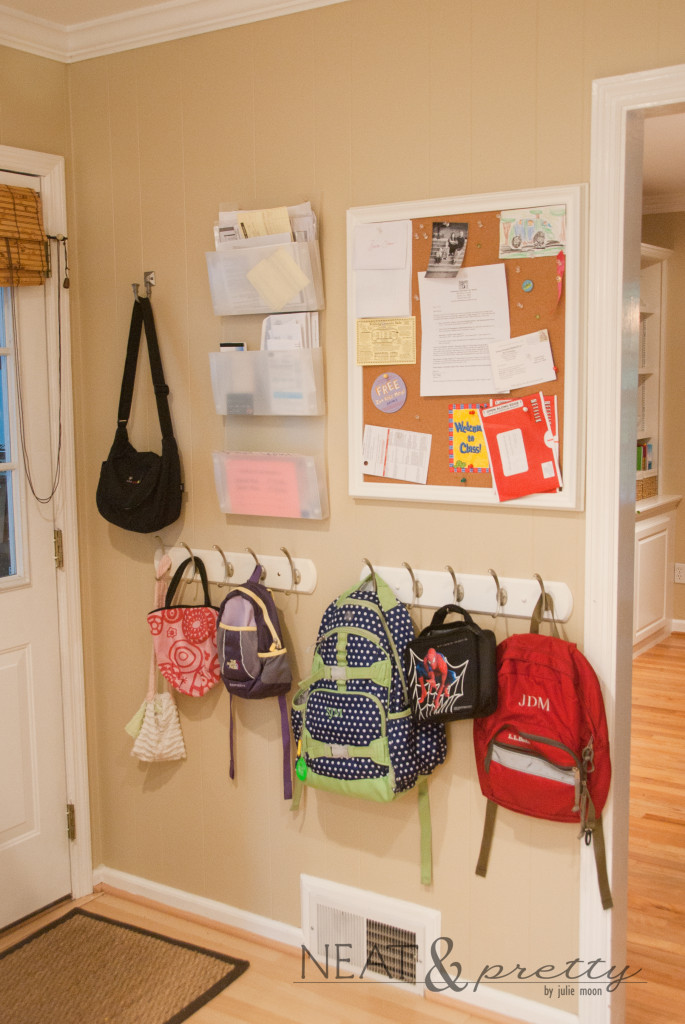 #5 Pin Up Purge
This last five minute clean up applies to one of two things…either your bulletin board or your refridgerator front.  The place where you pin up all the invitations, dental visit reminders, pictures, notes from school, etc.  Take five minutes and first remove everything that you know is trash!  Then what I like to do is remove everything and put things back on a clean slate.  Think about what is up there…could you cut that calendar a bit and save some space on the board?  Should you enter those birthday parties into your google calendar instead of just trying to remember that the invite is on your bulletin board? Do you need EVERY drawing that your three year old has drawn this winter?  Instantly more pleasing to the eye and maybe you'll remember that you need to buy a birthday gift for your nephew before his party tomorrow!