Do you have a room in your house that just makes you depressed?  You enter it only to just turn around and walk away?  This is exactly how my client felt about her basement.  She was paralyzed by the amount of stuff she had accumulated.  She also couldn't figure out where to start.  We had already worked on the rooms in the main living area of her house earlier in the month.  The upstairs was looking beautiful but the basement…just gloomy.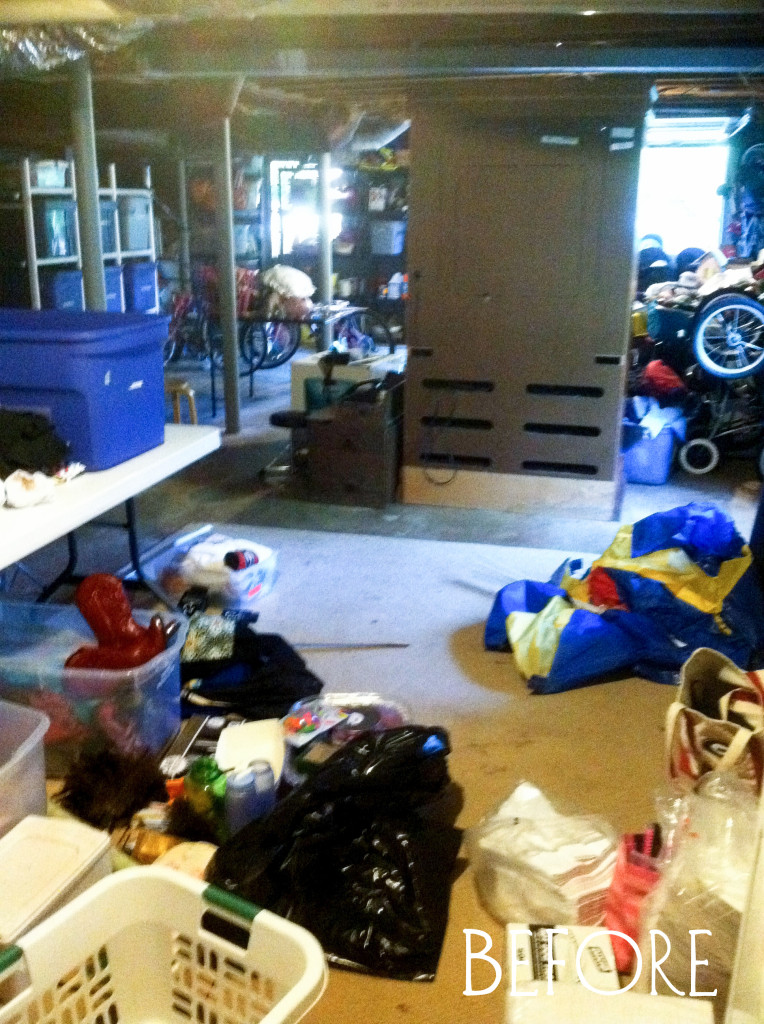 First off, this basement is also a garage.  The client wanted to enter her home through the garage and have a place to stop and drop backpacks, check a calendar and store some reference material for school.  We started with this blank side of a cabinet.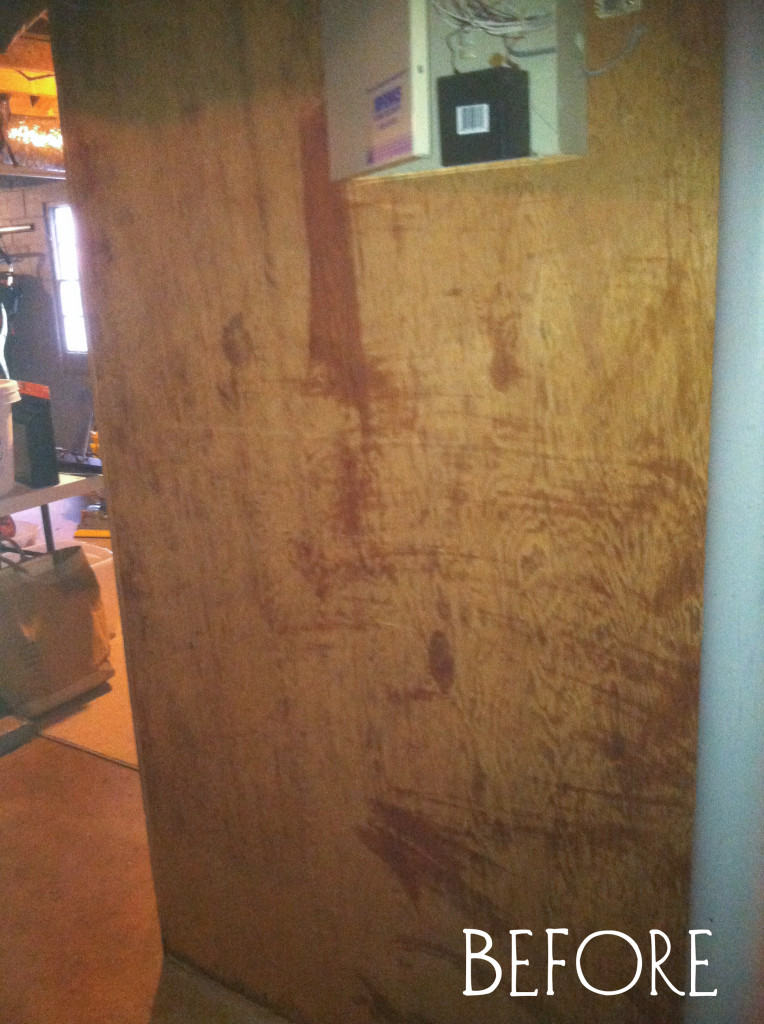 We removed the security box.  We decided it would sit up top of the cabinet just fine and still work just like it did on the side of the cabinet.  We painted the surface with some extra paint my client had from a project upstairs.  We installed a hanging rack, a whiteboard and corkboard she already owned, another hook for the large grocery bags and a hanging file.  This was the only place in the entire basement that we spent money.  My client purchase the hooks, the file, the little pen basket and the magnets.   Here's what it looks like now.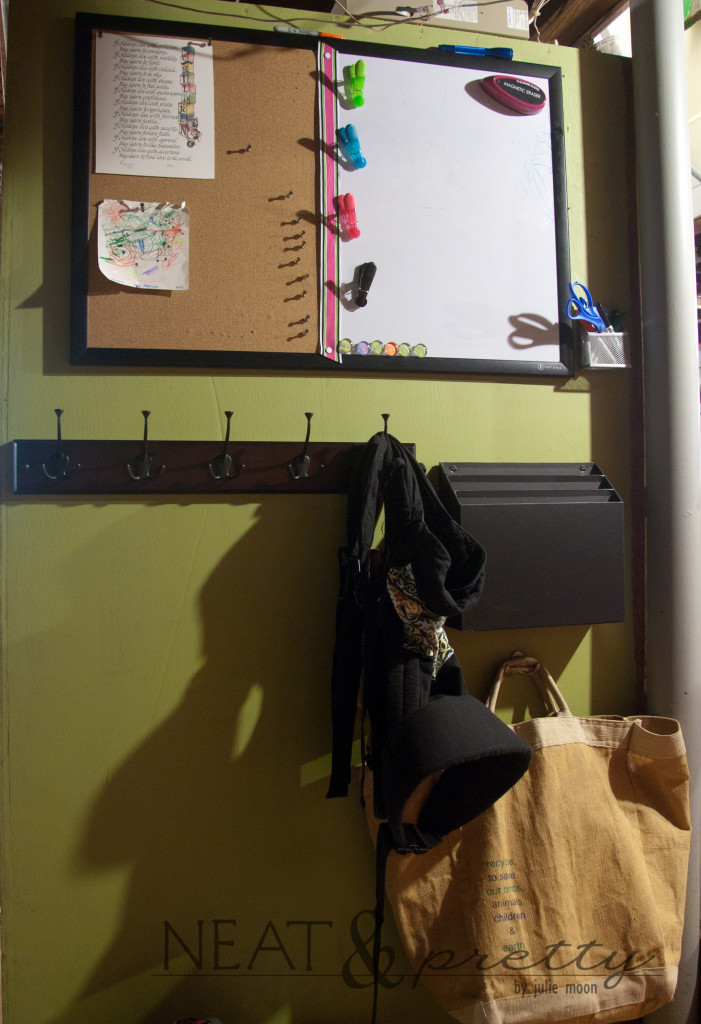 Next up was the inside of this large cabinet.  It used to house…junk…and some extra paper products.  It was a mess truthfully.  So much missed potential.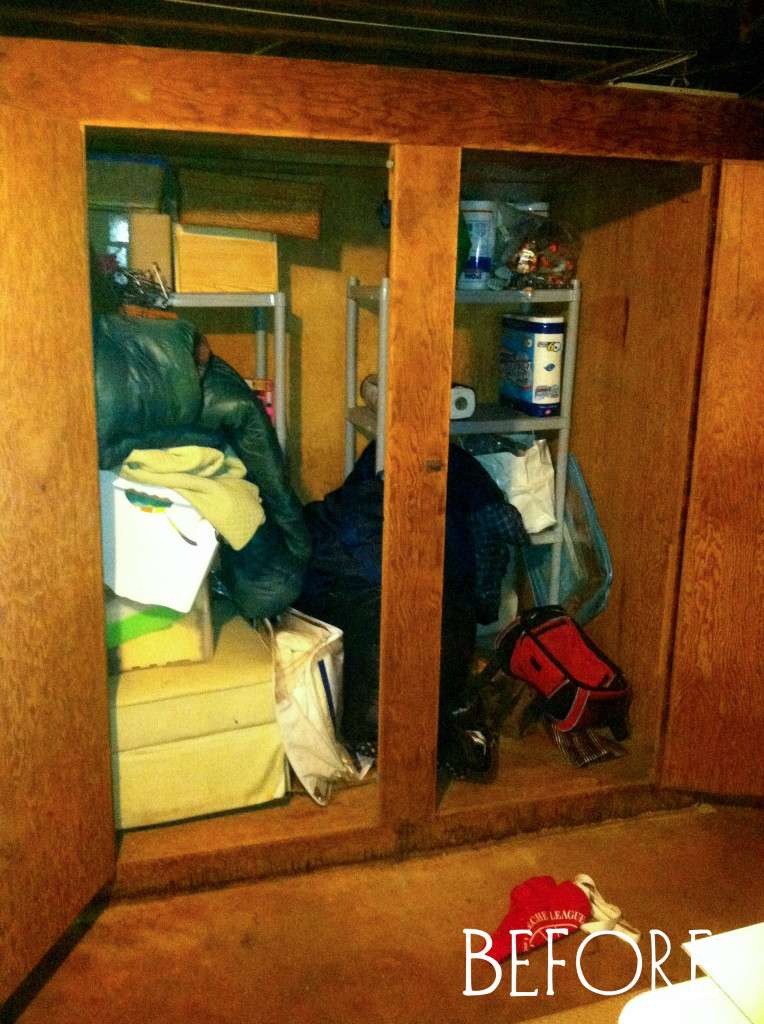 So…we took everything out.  Some things went to the trash, some to goodwill, some to the sell pile and some to the keep pile.  We took out one of the shelves to use elsewhere.  My client likes to celebrate the holidays…all of them!  I renamed this cabinet "The Festive Cabinet" and inside we decided to store all of her holiday decorations.  Most of the decorations are Christmas decorations but on the shelf on the left are individual bins with specific holiday items inside.  She has a bin for Valentine's and a bin for Mardi Gras, etc.  All of these Christmas decorations were shoved back in the crawlspace of their basement and it was a dirty job to climb back there and get all the bins out.  This year…it will truly be a joy to decorate! Come Christmas time this year she's promised to go through all her decorations and purge what she doesn't use or love and I think this cabinet is only going to start looking better and better.  And the best part is that it closes and doesn't have to be seen the rest of the year.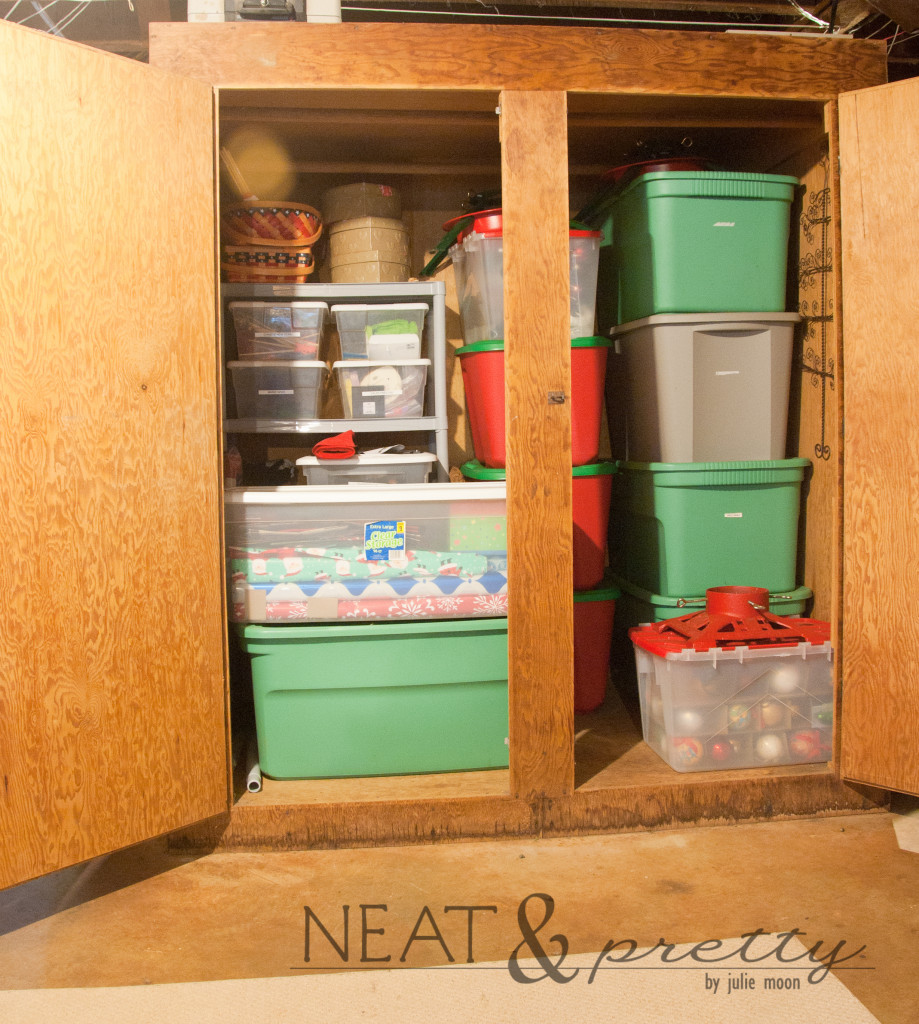 Next up were two storage cabinets.  My client had added them to create some more closed storage but they had become full and were not filled with things that were being used at all.  One closet had old coats and artwork that had no home upstairs.  The other cabinet was just full of some junk and had lots of empty unused space.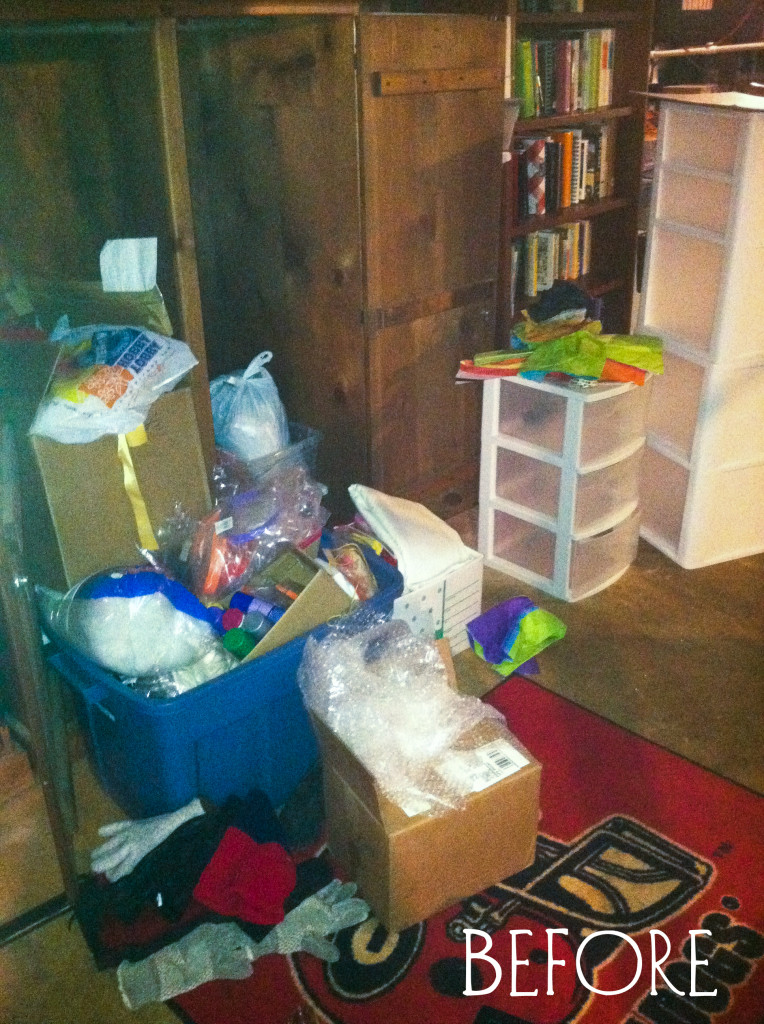 We emptied both cabinets and started fresh.  We decided the first cabinet would be used as craft storage and a gift wrap center.  My client loves to do crafts with her children but she didn't have easy access to her supplies…which resulted in her repurchasing things she already had and other things just being forgotten.  It was also a chore to find wrapping paper and tags when she needed to wrap a gift.  Now she has access to all these things in one cabinet right at the bottom of her stairs.  We used a little silverware caddy to store the tape, scissors and pens for wrapping.  She even had a handy man come and install a light in this previously dim space so she could easily see her supplies.  The best part about this cabinet was that she swapped a friend something from her purge for the awesome plastic drawer units to use…totally free project!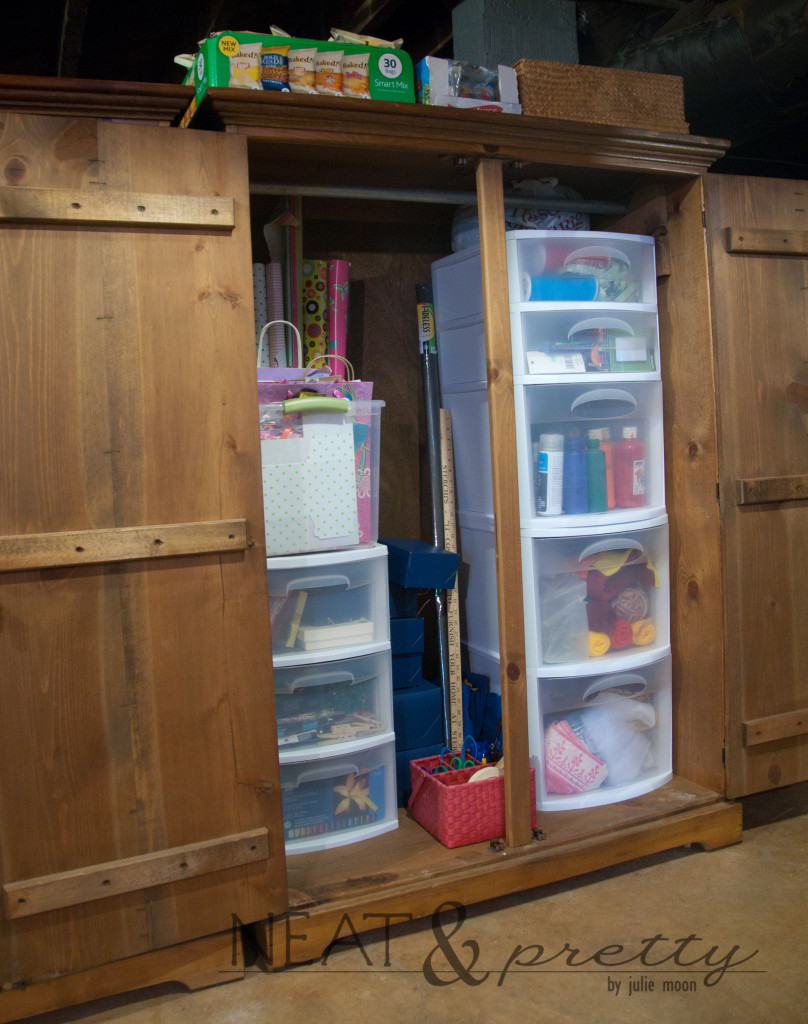 The second cabinet we decided to use for paper product and party supply storage.  We reused a shelf she already had and put her extra toilet paper, paper towels, napkins, paper plates, plastic cutlery and cups on these shelves.  We hung her tablecloths in this cabinet and she's even got her party favors stored here for her son's upcoming birthday party.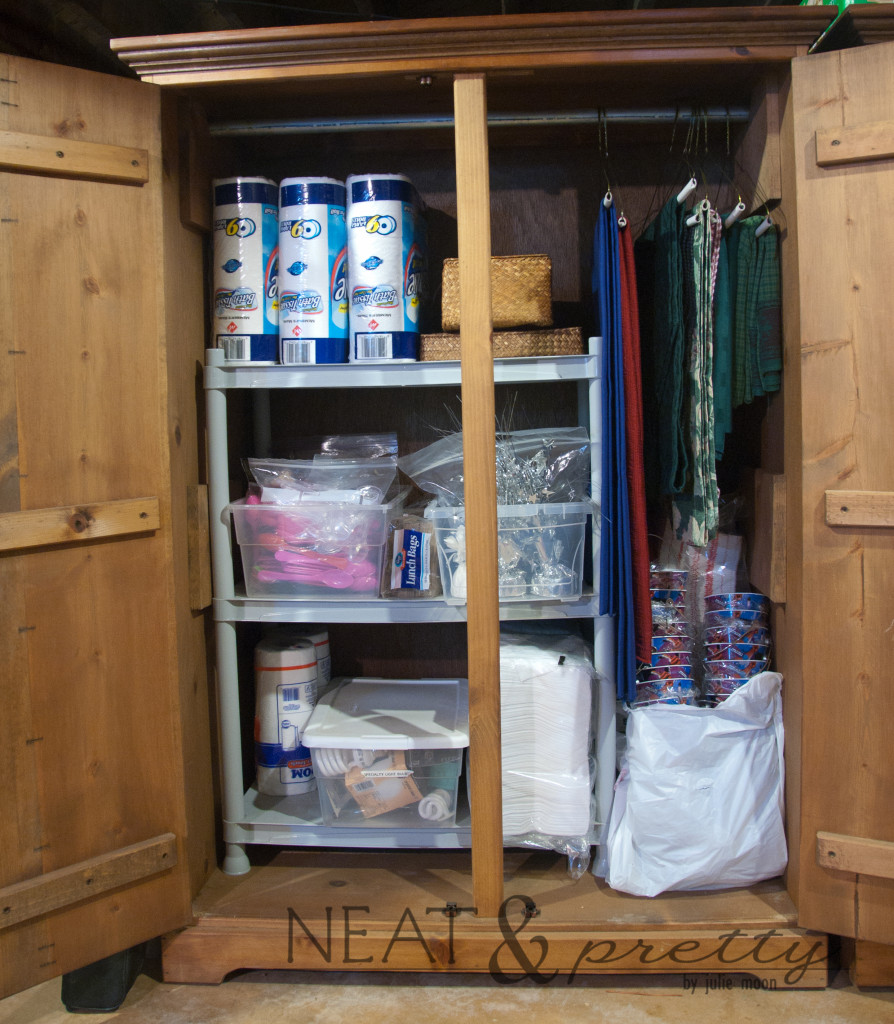 Next up was the wall of shelving.   This was a place we really purged.  My client went through these boxes…full of schoolwork and teaching supplies.  The next shelf had books.  The final shelf  housed some appliances.
We cleared everything off these shelves and used a bookcase we had in the basement.  We decided to only keep what would fit on that bookcase.  My client found things she could donate to her children's school and things that needed to live in her office at work.  We created a 'home improvement' shelf…with paint and supplies for painting, the middle shelf now houses sleeping bags, blankets and suitcases and the last shelf now has all the appliances that were spread around the basement, special serving pieces and a punch bowl…things for a party!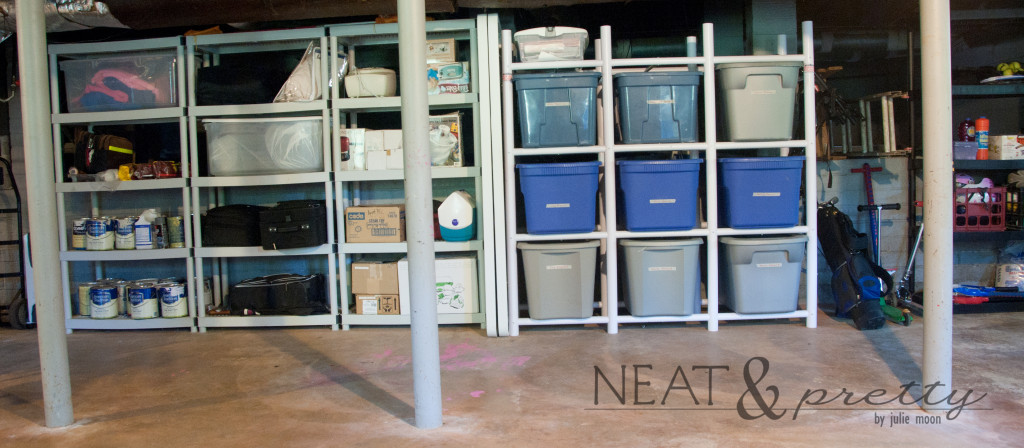 The grid shelf pictured above was something already installed in the basement.  We completely changed was was being stored in this unit though.  We gave each member of the family a "memory bin"…a place they are allowed to keep things that are special to them and they don't have to explain why.   Her husbands college letter jacket, her baby blanket, her daughters first slippers…a sacred spot to keep things.  Each of the children was also given a "schoolwork bin".  This is a bin for mom to periodically put special crafts/artwork/schoolwork for each of the children as the year progresses.  It's important to create a place for these things in our home because we all have that stuff whether we designate a spot for it or not.
Here is a picture of all that my client purged out of her basement.  She was brutal and I am so very proud of her for being able to let go of things that were not broken or ugly…but things that were not encouraging the peaceful, clutterfree basement that she longed for.  Don't judge…you might have this much stuff too if you were really brutally honest with your own home.  She had a very low key, 4 hour yardsale and she made enough money to cover the cost of hiring me to help her with her basment.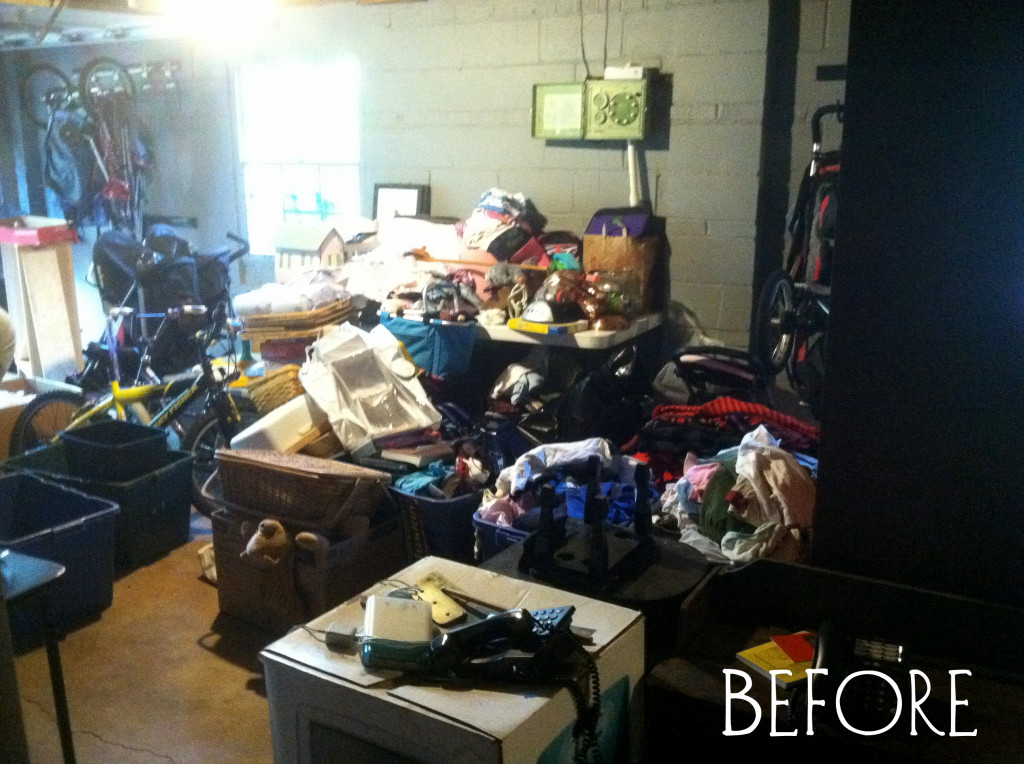 And her basement now…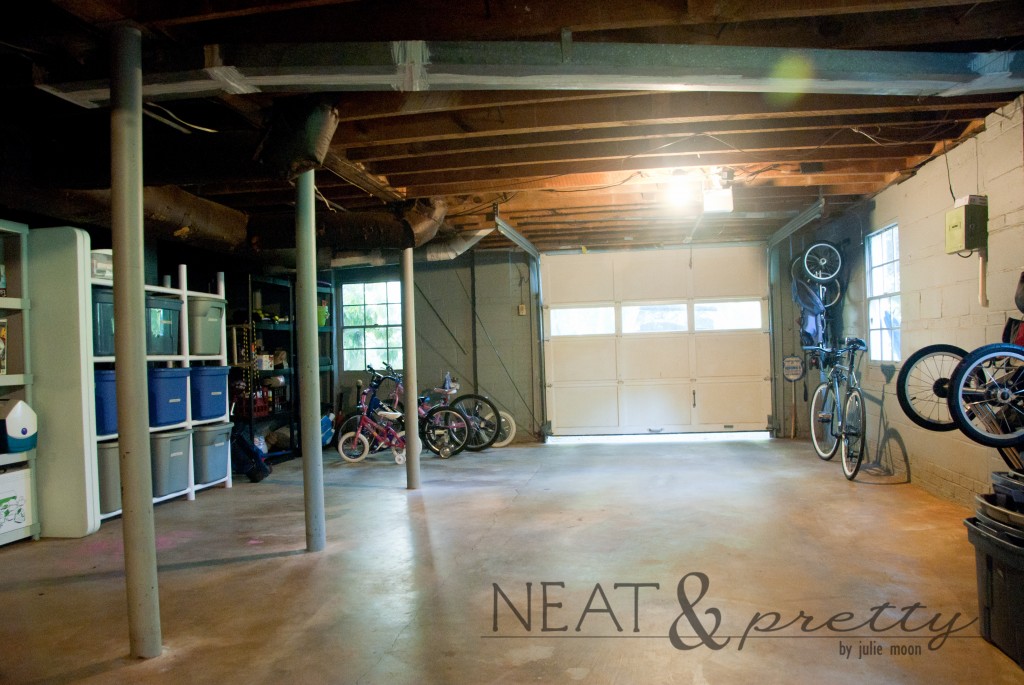 Just imagine what you could do in your own home.