So many of us want to spend time organizing every last beautiful thing our children do.  How they look, what they say, how they are growing…the list goes on and on doesn't it? I want to but the truth is that I have three children and two businesses and a busy life.   I have managed to put a few things down in a baby book and I've been pretty  good about documenting their live in photos.  One thing we are always talking about here at our house is how big the children are.  I'm always amazed a the way they are growing and how quickly they outgrow their clothing.  We have been predicting that my middle child will overtake his sister in height before he turns 8…she's 2 years older.   I saw this on Pinterest:

There was a challenge put out by Sherry at Young House Love and her friends Katie, Emily and Lana to stop pinning things and actually make something.
I decided to make this life size ruler to write the kids growth on.  How does this relate to organizing?  Well everything I write won't always relate but I think this is great because it's a way for you to measure your kids and keep track of their growth out in the open in a beautiful way.  You don't have to go looking for that baby book to write in or remember to keep that little piece of paper they give you at the annual checkup at the pediatrician.  I hope this will be a wonderful family keepsake that the children love and have fond memories of.   I also love that it will move with us should we ever move from this home.
I bought a piece of maple lumber.  I liked the smooth texture and clean surface.  It was about $22 for this piece.   You can purchase a piece for much less if you don't care what kind of wood you're using.  I measured out the lines in pencil and then went over them with a black permanent marker.
I stained the wood (don't forget to use a preconditioner for a smooth finish).    After the stain was dry I went over all the marks with a black paint pen since I didn't like how the permanent marker looked.  I found a font I liked and printed out the numbers 1-7 in 200 pt font and then colored the back side of the paper in pencil.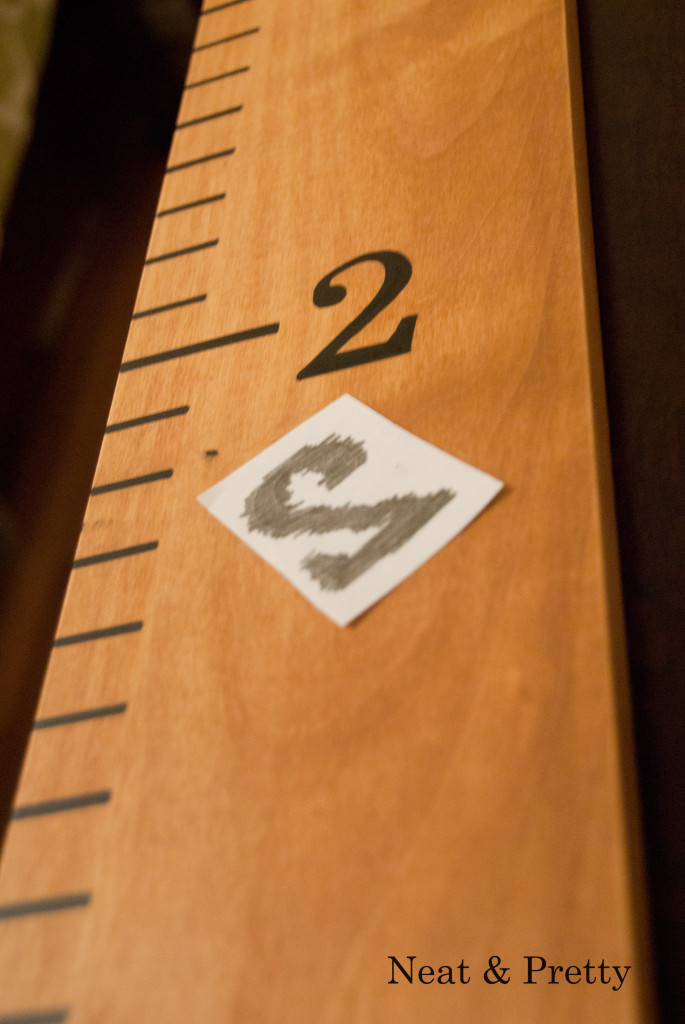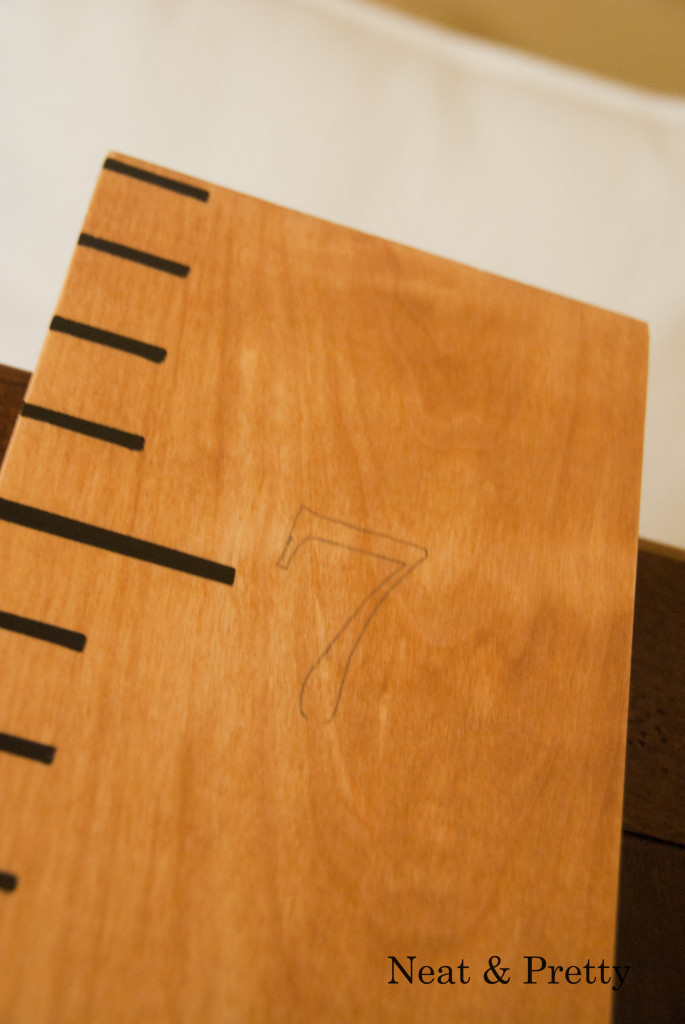 I then placed the number right side up on the wood where I wanted the number to be on the board.  I traced the outline of the number with a ball point pen and it transferred the lead onto the board.  I could then carefully go over it with my paint pen.  I then polyurethaned the board and hung it on the wall.
Voila…measuring board to record my family's heights!