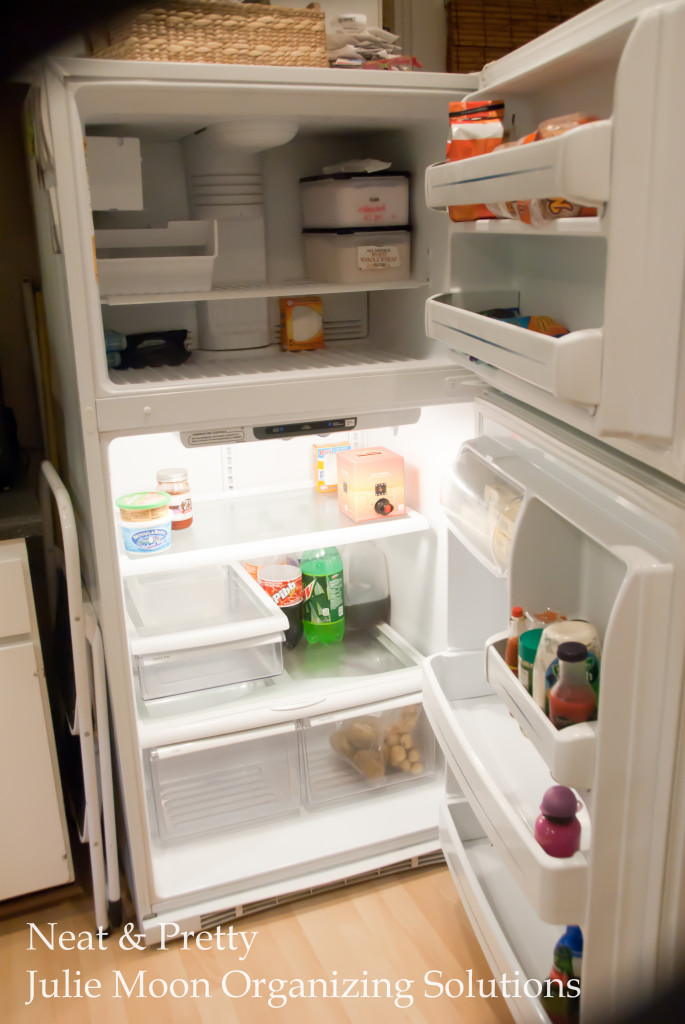 I was going to do a wonderful before and after of my fridge before grocery shopping day….above.   Yes…it really is THAT empty.  And then I was going to photograph my fridge after I did all our grocery shopping.  But, today while I was at my local kroger…which a friend affectionally calls "broken kroger"…the POWER WENT OUT.  I was a third of my way through the store and then it's dark inside kroger and they requested that everyone move to the front of the store to check out.  I had strategically planned for a babysitter to be at my house so that I could leisurely do my grocery shopping…yes when you're a mother of three you have to enjoy every moment you get even if it's in broken kroger.  My babysitter calls to tell me the power is out at my house as well.  No storms, no rain, no thunder, nothing….just power outages all over our city today.  So I proceed to checkout and get these groceries home and shove them into my fridge which I opened so carefully and then shut back immediately to preserve the cold air that was inside.  FOUR HOURS LATER our power was restored…what a day!  So…instead you get a shot of my fridge before…and no after….but we'll still discuss refrigerators.
Your refrigerator…is it a scary place? Would you let your friends see the contents?  Do you know what is inside your fridge? Here are a few things I think about keeping a fridge looking good and functioning well.
One…clean them regularly.  When your contents are low, just wipe them down with a little all purpose cleaner and a rag.  It is much easier to maintain if you do that regularly.
Two…adjust your shelves.  Have you ever adjusted your fridge shelves? Have you ever thought about it?  Are you maximizing the space in your refrigerator?  Take a minute and really look at it and think about it.  If you can't figure it out…invite your most organized friend over and ask her what she might do.
Three…get rid of old stuff.  I know this sounds really dumb but you know you have something in there that is expired.  Something someone brought to a cookout and then left behind. Do you have four bottles of mustard in your fridge? Some salad dressing you tried out but it was gross?  Did your hubby accidently buy the wrong kind of pickles? I give you permission to purge….declutter your contents.
Four…consider rearranging.   Think about how you use things and where you put them.  Grouping like items together.
Five…use containers.  besides the three drawers that we have in our fridge I use plastic bins to group things together to keep my fridge more orderly.  One bin I put the yogurts and snack items inside and the other bin holds all the fresh snacky veggies that my hubby and son love to munch on. It helps keep things visible and keeps them from getting shoved behind a bottle of mr. pibb.  My little people also know where to look for a snack.
This week…I challenge you to clean out your fridge.  Go through my five tips above and get your fridge looking Neat & Pretty!