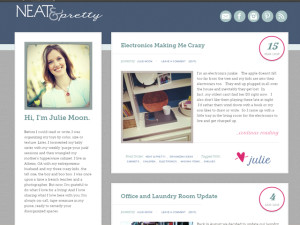 Sometimes you feel like you just need a fresh perspective.  You need something to motivate you a bit…get you thinking more clearly.  I mentioned to my very talented sister that I wanted to freshen up the blog and boom…the ball was rolling.  She is an awesome graphic designer at www.imajworks.com and truly has a talent for envisioning things and then making them happen.  She knew exactly the direction I wanted to go and she entered this magical little world as I watched her work.  Her fingers were on fire and she was tap tapping around making things change right before my eyes.  Did I mention that she's also GETTING MARRIED this Saturday and preparing for that while she rocked out a whole new web design for me too?
I am working to make the blog more personal and so it was great to be able to add my instagram feed into the page.  This new site will also work wonderfully on mobile devices.  I feel inspired and hope this will help encourage my writing.  I have so many ideas I know and often have a hard time transferring that into blog posts.  I so often assume what I have to share is probably common knowledge and so I don't feel it's blog worthy.  But then someone reminds me that what comes so easily to me is not necessarily common knowledge or the way other brains think.  I fully understand this when I think about other topics that I am not great at but for my own subject matter I have to be reminded.  I hope you like the new look…I'm thrilled!  Thanks Jami!
Take a minute and click around and check out the new digs.  I'd love to hear what you think of the new space.