So your children have started school and every week (or maybe every day) they come home with papers.  They have notes from school, fliers to sign up for new activities, art they have created or schoolwork they have completed.  You pull it out of their backpack, take a quick glance over all that you see and stack it nicely in a pile on the counter.
WRONG ANSWER!!!!
If you do this once….no big deal.  You do this half a dozen times and before you know it you're out of control.  Sooooooo Julie……what do I do?
Every Monday my two biggests each come home with a folder that always has something inside for me to read, sign, sign up for or remember.   If I'm not actively dealing with the paper that comes home from school  ours would just end up in a VERY large pile on my counter.  I'm sure I'd forget tons as well!
I think the most important thing when it comes to school paperwork is to deal with it immediately.  If you put it away it's likely to get forgotten or misplaced.  Go ahead and put the date on your calendar.  You DO have a calendar right?  Write the check.  Do it…now!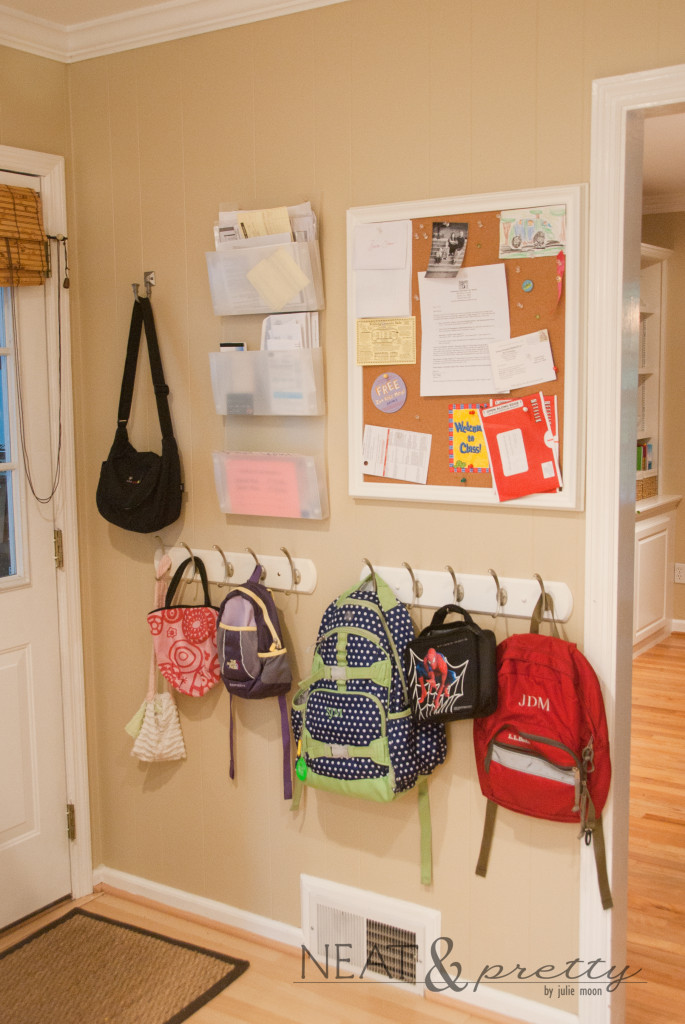 We enter our home through the carport.  We don't have a large kitchen but I have created a center on the wall when you enter the house that houses backpacks, lunchboxes, jackets, my purse and important papers.  I have a bin at the front door where the kids are to put their folders when they come home on Monday.  My kids have purple folders that come home from school on Monday from the school.  Inside are any important papers, requests for money or communication with the teacher.   I deal with anything inside and put the folders right back in the backpacks so that I am not scrambling on Tuesday morning to get things back to the school.
I have a bulletin board for important event notices and party invitations.
I use my google calendar religiously.  I enter all the important dates on the google calendar (I have several calendars…one for personal, one for photography clients, one for organizing clients, one for school, one for kids eat free nights, one for when my kids are sick,  one for my babysitters' hours, one for sports, one for birthdays….I love google calendar.)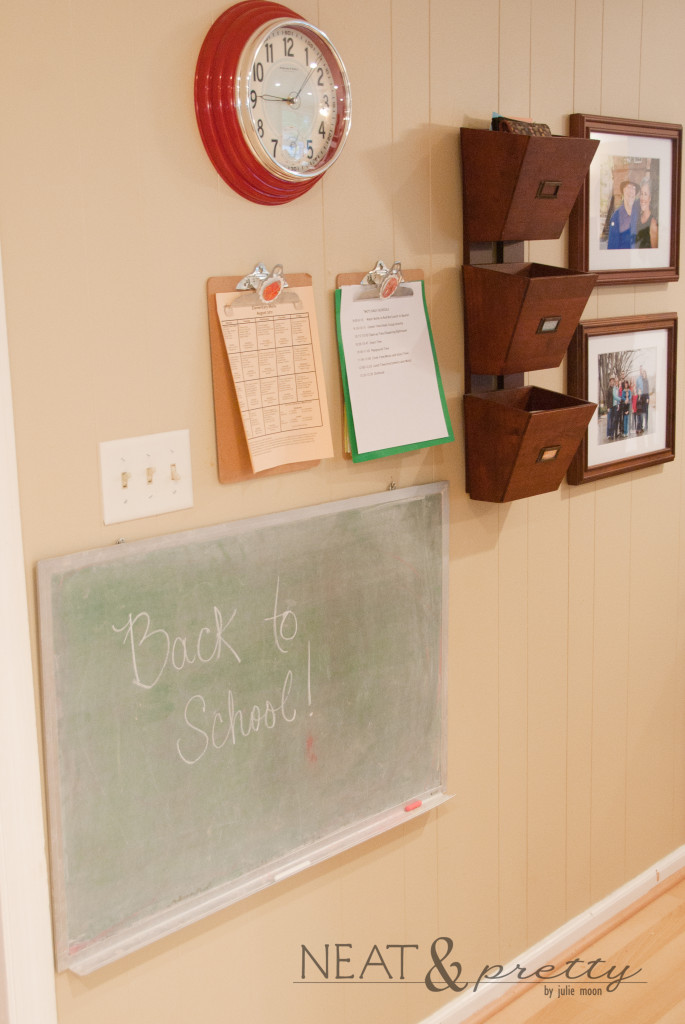 I have two clipboards on the wall in the kitchen.  One has the current school lunch calendar, the other has important reference pages such as the kids daily schedules, school master calendar or phone lists for the school.  They are each to change out for new papers and they are portable which is nice when I need to bring the clipboard over to my desk to work on schedules.
I have seen parents come up with binder systems to keep in the kitchen as a reference.  I have seen different variations of in and out bins.  I've also seen my share of piles of paperwork on kitchen tables or counters.  The key thing is not what you use but to have a system.  If you have one child…this might not be that overwhelming yet.  This year I have three children in two different schools and I'm really noticing the difference in the amount of things I have to remember.
Our school is doing more and more virtual paperwork, newsletters and such.   How do you feel about this?
What system do you use?  What is the hardest part for you to keep up with?
I'll share some ideas on storing all the drawings and sentimental works of art and writing in another post this week.